HACOL- Press Brake Machine, Hydraulic CNC Press Brake
The machine body is in an overall processed structure and ANSYS finlte element analysis to main parts of the
machine body for analysis,which has ensure the reliability of machine tool and the precision of the entire
machine.
Electrohydraulic servo valve imported from Germany and imported grating ruler is adopted for the main oil
cylinders on both sides,to brake through the stroke control pattern of traditional bending machines of mechanical
stopper type,typical of high feedback precision for position of gliding block,accurate and stable operation,
good synchronizing performance and high repeated positioning precision of gliding block.
Imported parts are used for all the functional parts in the rear stopper to ensure the stopper percision and the
mechanism of real stopper will multiple stopping shafts for more complete function is employed up to
customer requirement.
Hydraulic control system import from germany is adopted for the whole hydraulic system,simplify the installation
of pipelines to ensure stable operation as well as simple and nice appearance of the machine tool.
C-shaped plates are fitted on both sides of the machine body,the high precision grating rule is mounted on the
C-shape plates,thus to avoid the infuence over pending precision arising from distortion of machine body during
bending process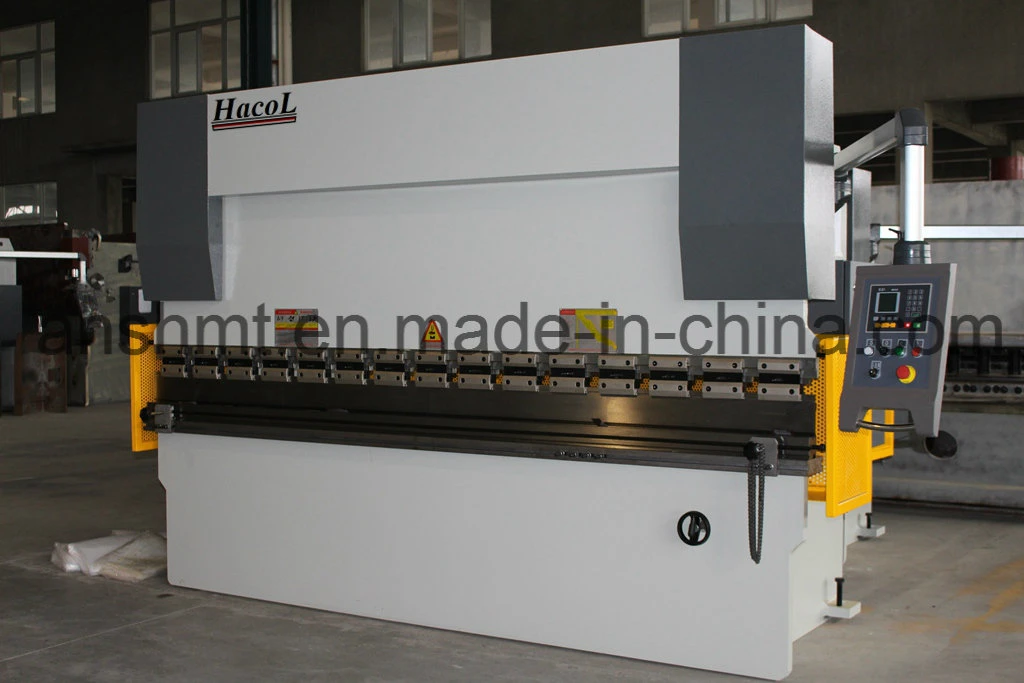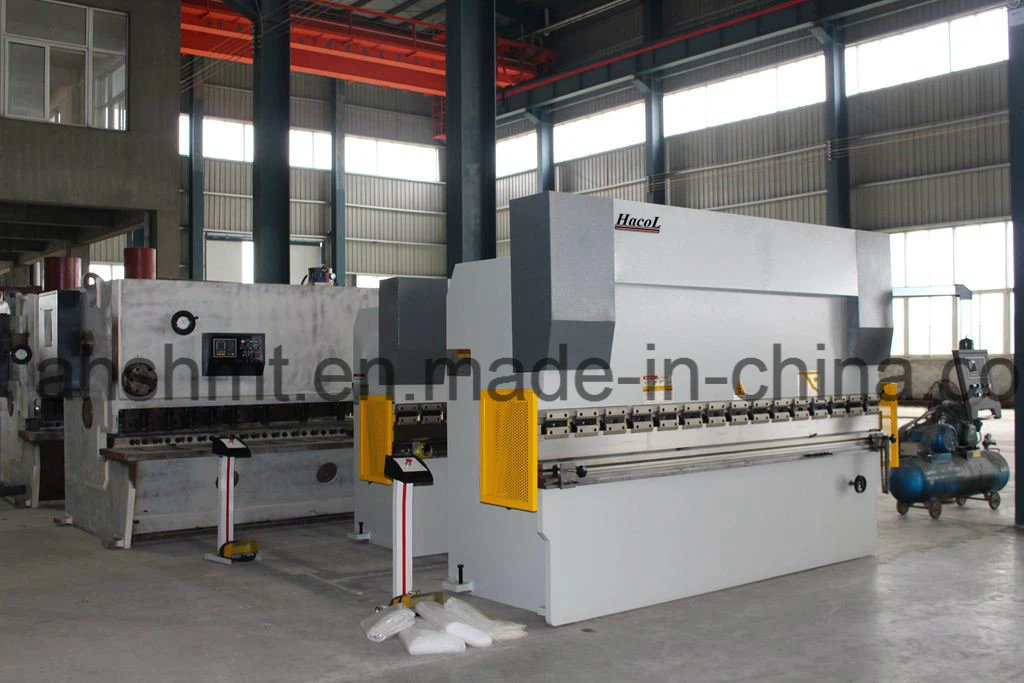 Model
(WC67Y)
Nominal Pressure (kN)
Length of table (mm)
Distance Between Housing (mm)
Throat Depth (mm)
Stroke (mm)
Open Hight (mm)
Main Motor (kW)
Dimensions
(L x W x H) (mm)
weight (T)
40/2000
400
2000
1600
200
110
335
4
2545x1510x2050
3
40/2500
400
2500
2000
200
110
335
4
2950x1510x2080
3.5
63/2000
630
2000
1600
250
110
350
5.5
2555x1600x2130
3.8
63/2500
630
2500
2000
250
110
350
5.5
2960x1600x2180
4.2
63/3200
630
3200
2600
250
110
350
5.5
3740x1600x2230
5.2
100/2500
1000
2500
2000
350
150
400
7.5
2980x1650x2330
6.3
100/3200
1000
3200
2600
350
150
400
7.5
3740x1650x2355
7
100/4000
1000
4000
3200
350
150
400
7.5
4550x1650x2450
8.8
100/5000
1000
5000
4000
350
150
400
7.5
5100x1500x2650
11.8
125/2500
1250
2500
2000
350
150
410
7.5
3980x1650x2370
7.5
125/3200
1250
3200
2600
350
150
410
7.5
3750x1650x2450
8.2
125/4000
1250
4000
3200
350
150
410
7.5
4550x1650x2470
9
125/5000
1250
5000
4000
350
150
410
7.5
5100x1500x2795
11.5
125/6000
1250
6000
4500
350
150
410
7.5
6100x1500x2895
14
160/2500
1600
2500
2000
350
150
425
11
2980x1715x2410
8.5
160/3200
1600
3200
2550
350
150
425
11
3750x1715x2450
11
160/4000
1600
4000
3200
350
190
450
11
4550x1715x2730
12
160/5000
1600
5000
4000
350
190
450
11
5100x1570x2900
15.5
160/6000
1600
6000
4500
350
190
450
11
6100x1570x3010
19
200/3200
2000
3200
2600
350
240
460
11
3750x1815x2715
13
200/4000
2000
4000
3200
350
240
460
11
4550x1815x2850
14
200/5000
2000
5000
3800
350
240
460
11
5100x1715x3020
18.5
200/6000
2000
6000
4500
350
240
460
11
6100x1715x3120
21
250/3200
2500
3200
2600
400
240
525
11
3750x2010x2850
15.5
250/4000
2500
4000
3200
400
240
525
11
4550x2010x3010
17
250/5000
2500
5000
3800
400
240
525
11
5100x1890x3190
21.5
250/6000
2500
6000
4500
400
240
525
11
6100x1890x3350
28
300/3200
3000
3200
2600
400
250
545
15
3740x2100x3235
19.5
300/4000
3000
4000
3200
400
250
545
15
4340x2100x3300
22
300/5000
3000
5000
3800
400
250
545
15
5100x2100x3430
26
300/6000
3000
6000
4500
400
250
545
15
6100x2100x3490
29