It is also named continuous thermoforming vacuum and gas inflating packaging machine or Fully automatic film stretch vacuum and air-inflation packing machine.The package materials are all kinds of heat-sealing films or aluminium film,transparent or opaque, printed or unprinted film,soft or rigid.They will become soft and be shaped as per the die shape under heating and air pressure(positive&negative) in the forming chamber,some cases an auxiliary mould(plug) will assist the shaping process when they are not easy to be molded.The whole process is under precisely control of PLC,continuously and automatically.

Application:

All kinds of food,delicatessen,omophagia,meat, snacks,seafood,fruits and vegetables,pickles,animal feed,pharmaceutical,hardware components,etc.

Technic Datas:
Model

LZ320

LZ420

LZ520

Width of top film

296mm

396mm

396mm

Width of bottom film

322mm

422mm

422mm

Chamber sizes

300 x (200-400) mm

400 x (200-400) mm

500 x (200-600) mm

Maximum forming depth

80mm

80mm

80mm

Producing capacity

1000-11000 pcs/h

1800-16000 pcs/h

2400-18000 pcs/h

Vacuum

≤200Pa

≤200Pa

≤200Pa

Compressed air

≥0.6MPa

≥0.6MPa

≥0.6MPa

Cooling water

≥0.15MPa

≥0.15MPa

≥0.15MPa

Power supply

380V/50HZ

380V/50HZ

380V/50HZ

Power rate

7 KW

12 KW

14 KW

Dimension

4500mm X 710mm X 1780mm

7000mm X 900mm X 1800mm

8000mm X 1000mm X 1800mm

Weight

1300kg

2200kg

2800kg

Pumping rate

60~100 m

³/H

160~200 m

³/H

300 m

³/H

Working speed

5-7 step/min

4-6 step/min

4-5 step/min

Free mould

2 sets

2 sets

2 sets
Important message:
*Type of cutting knife: Linear cutting,zigzag cutting,rounded corner cutting,etc.
*Single/Double thermoforming:Only bottom film thermoforming or Dual films thermoforming(for both top and bottom films).
*Gas inflating and none gas-inflating (such as nitrogen,carbon dioxide)
*Typical machine types:LZ320, LZ420, LZ520.

Preparation Functions:

Interface and program that can be connected to the feeding robot is reserved.
Interface for volumetric automatic metering system is reserved.
Interface for all the popular electronic scale/weighers is ready.
Interface for the automatic liquid filling is reserved.
Code, date and batch number,and various messages can be printed on each package when printer installed.


Optional Functions:

Top film thermoforming.
Vacuum or none vacuum
Gas/air inflating
Format/die fast change system
Nitrogen producer
Rounded corner cutting knife
Inkjet printer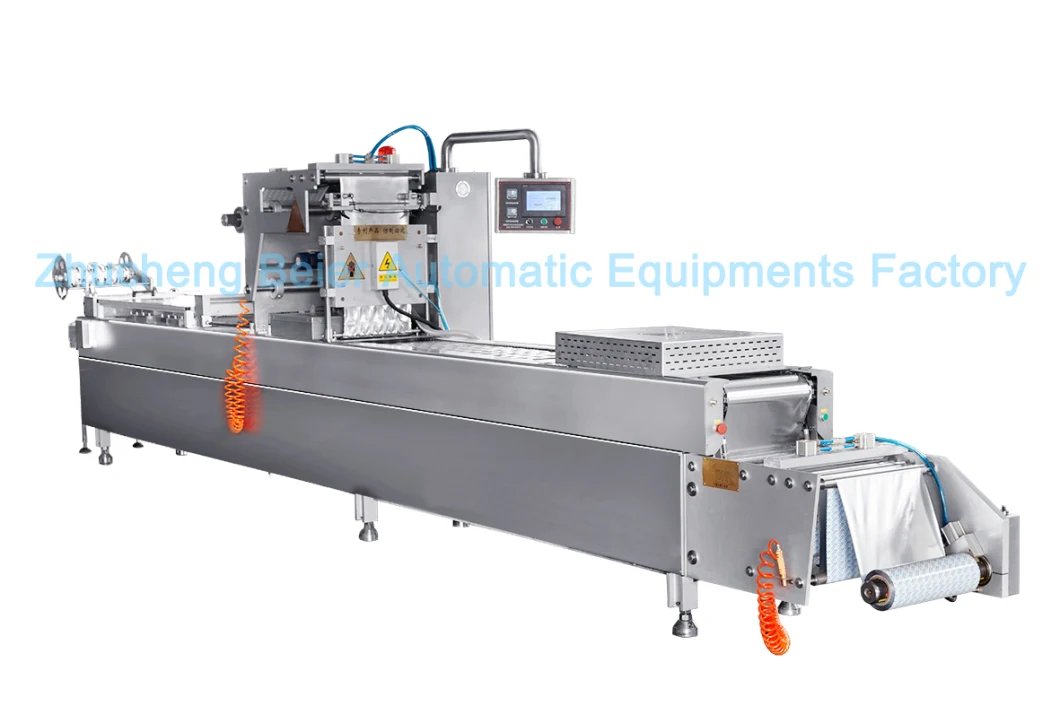 Product Features:
External high vacuum pump from Busch Germany,no pollution.
Busch Vacuum Pumps and Systems is one of the largest manufacturers of vacuum pumps in the world. Its headquarters is located in Maulburg (Germany), where the main German manufacturing facility is located.
Banner American photoelectric tracking system.
Equipped with cooling system for heat-sealing chamber.
Power off phase and reverse phase protection.
Electric leakage protection, automatically cut off power supply when leakage occur, to protect safety of operators.
Pneumatic components from AirTAC Inc, key parts (Pneumatic Festo/Vacuum valve/Valve Terminal)from Japan SMC.
Aluminum alloy i

ntegral side plate

(Patent No.ZL2004200390983),high strength good straightness,hardly to distort.
Push-pull Siemens smart touch screen(include communication cables) and Siemens PLC.
Film moving controller&driver made by Mitsubishi or by Siemens.
Guide rail system of printer made by German Igus with Panasonic servo driving system.
Maintenance-free linear bearings of the cross-cutting knife made in Germany.
Panasonic inverter speed-regulating system(include communication cables).
Temperature sensors and controllers made by Siemens Germany or made by Omron Japan.
Stainless steel chain from REGINA Italy.
Pneumatic tensioning mechanism, pneumatic brake, prestress adjustable for both top and bottom film.
Equipped with film deviation automatic correcting system.
Equipped with film tension regulating system, the computer can automatically identify the sizes of rollers, automatically adjust tension to keep the same stress of upper and lower films.

Packing Samples: