~~~
4 to 22528 eggs incubator, welcome inquiry
~~~
Popular Mini Automatic Poultry Cheap Egg Incubator Machine Hatching 56 Chicken Eggs
***
Welcome you

Give me a inquiry,return you a surprise.
***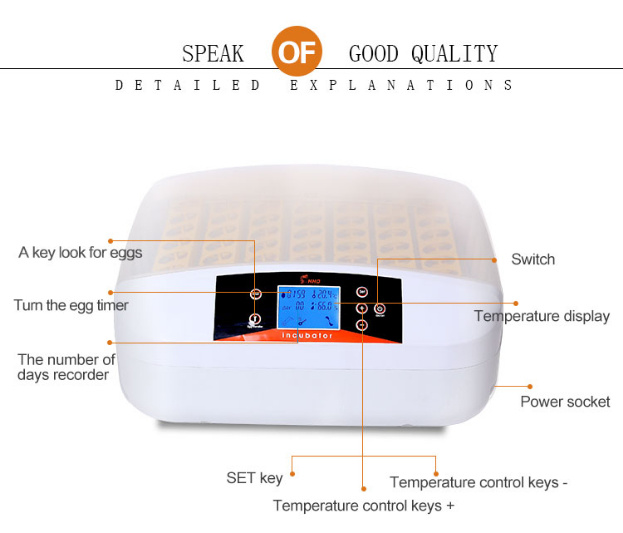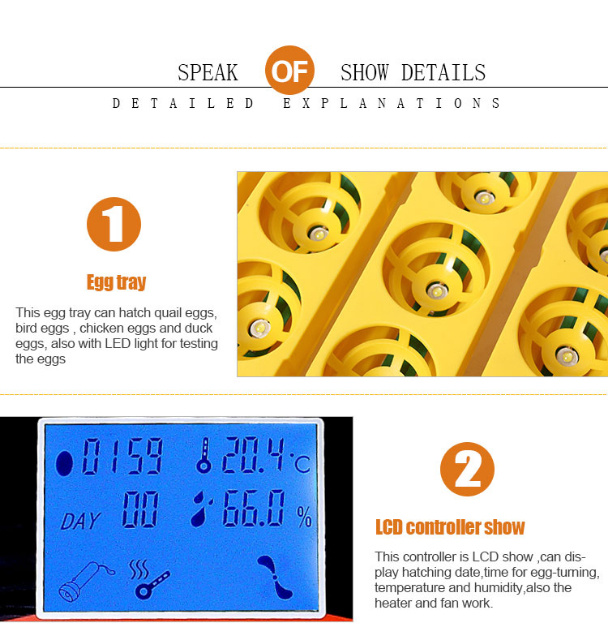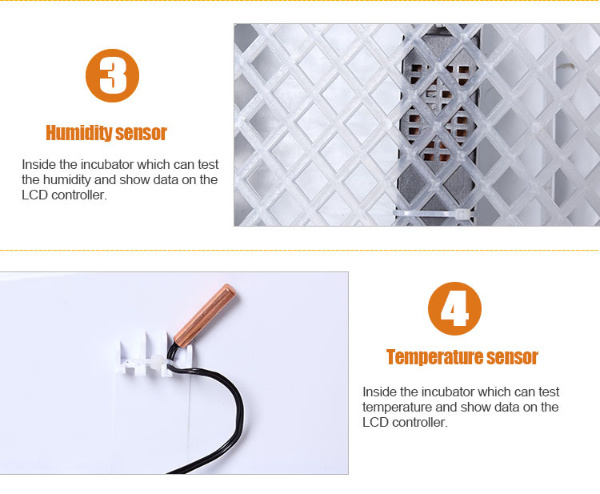 Specfications of mini incubator
Voltage/Power:12v-240V/50Hz
Frequency:80W
Capacity:96 Eggs
Colour:As picture shows
Temperature Control:30-42 ºC
Humidity Control:20-85%
Package Contents:
1 x Egg Incubator
1 x SAA Plug
1 x Manual
Package Weight:5kg approx.
Product Dimensions(L x W x H):50cm x 50cm x 28cm approx.
Package Dimensions(L x W x H):50cm x 54cm x 32cm approx.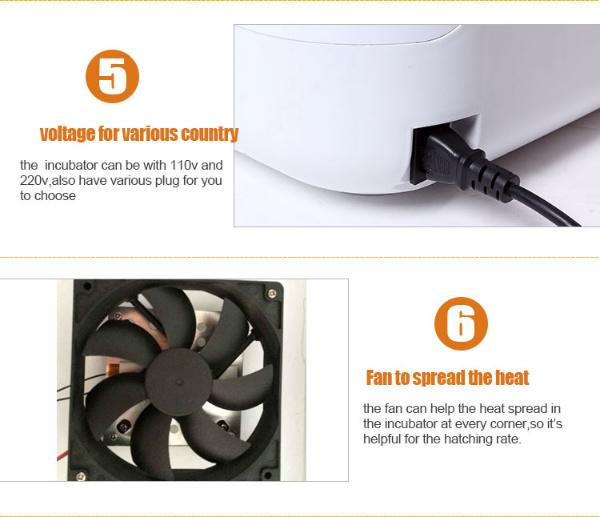 Avantages of mini incubator
Transparent
CE Approved
1 years warranty
98% hatching rate
8-10 years working life time
Easy control and energy saving
Conbination of setter and hatch



Fully automatic

Every 2 hours egg-turning

Every 2 hours ventilation control

Temperature, humidity control

LED Displaying temperature humidity and turning frequency on controller

Alarm when temperature, humidity abnormal
Certificate: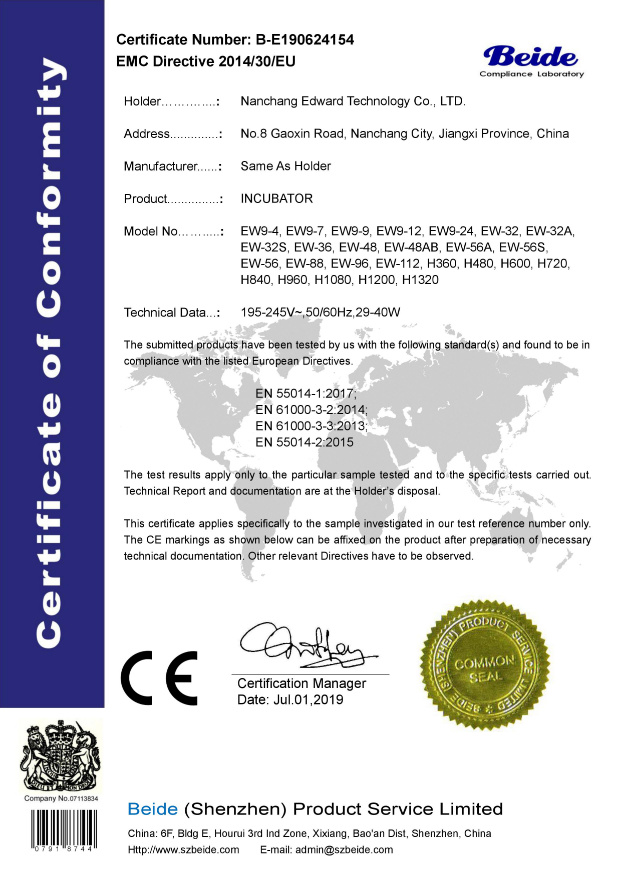 How to operate incubator
1. Pls preheat before the machine start to work, check whether it's 38°C or not, if not,pls set it to be 38°C according to Push-button Instruction.
2. Pls check whether the two LED light up or not.
3. Pls turn off the power after preheating, put the water pan with water under the basket and put eggs into machine, then cover the lid of machine and turn on power.
(Attention: 1.pls turn off power before open lid of machine;
2.add water every one to two days, the eggs;
3.the eggs used to hatching must be hatching eggs.)
Push-button Instruction:
1. SET:
A: Push SET once to enter temperature control set, push <+> or <-> to adjust temperature, push SET again to exit from setting state.
B. <+>:Up button C .<->:Down button
Operation Instruction:
Indicating lamp state instruction:
WORK lamp on the left side of display screen is made as work indicating lamp, LED normally on means it's in heating state.
SET lamp on the left side of display screen is used for indicating lamp set, LED normally on means itis in setting state, when it flash, it means low temperature, the machine will start to warming at the same time.
Upper and lower limit function:
Product set limits setting range of temperature control, 18-45°C
(Note: pls add water when start to use)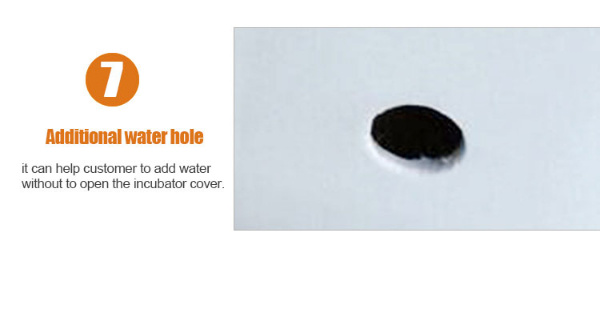 Our service:
1.Supply best quality farm machine with the lowest price
2.Can send you the samples for your test
3.Spares parts are free for you.
4.Professional farm plant design, save money for you.
5.Can supply door to door service.
6.CE certificate is avaiable.
Any questions,welcome to add me Then we can chat online fast.
About us:
Our company is the only one all of poultry egg incubators has CE COMPLIANT in China. Specialized in the egg incubators for many years.
1. It is the deluxe version with a high quality, Accurate electonic heat and humidity controller instead of the cheap and nasty waffle-plaste system seen on other incubators.
2. The incubator has a two-fan cooling/heating system, with a sepate air heater coil at the top and a water heater element in the water bath below.
3. The system includes a large plastic hatching basket, Which will work as a brooder for the first couple of days of the chicks life.
4. The entire system is programmable via the control unit, Which is conveniently located at the top of the incubator, and is very easy to set for optimal results.
5. We have one of these working now and it is a very good incubator, You will find the your ideal machine here!
About place an order steps:
1.Inform me model, quantity, address(seaport or city)
2. we will quote the total price for you
3.make a payment by T/T, western union, escrow, money gram or all bank in china.
4. inform me voltage and plug choice you need.
5.after we receive your money then we can start prepare goods for you and deliver to your adress.
Contact me:
+86 19179506661 Vita