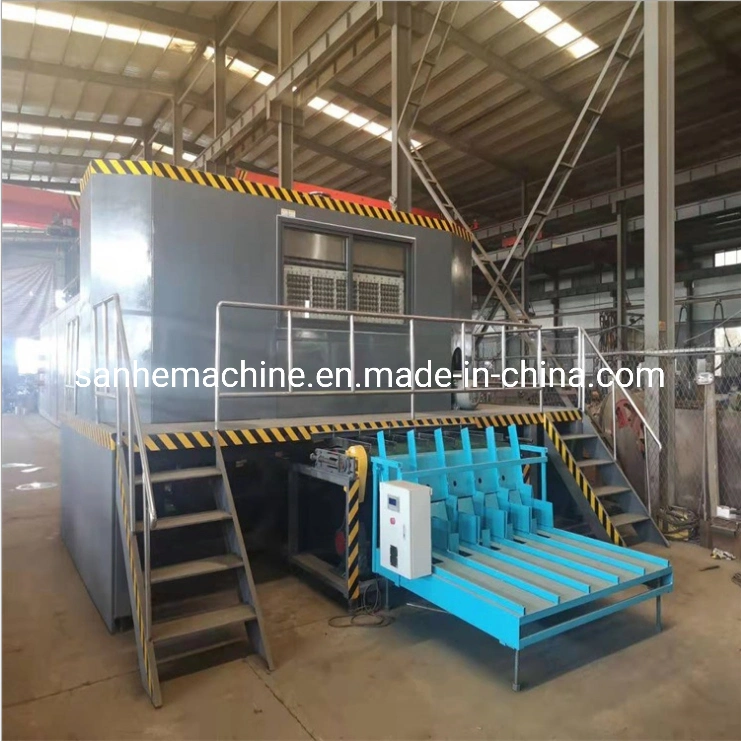 paper egg tray making machine / small egg tray machine
Specifications&Advantages
1.6000pcs/hour
2.Easy to install and operate,you just need to assemble all parts together, then plug in and turn on the switch, the machine can run.
3.Rugged construction
4.Heat resistance
5.Competitive price
6.Green:No waste paper emission
7.Stable final product quality(Good&strong look, same weight and size)
8.Space saving & low investment
9.Best pre-sale, in-sale and after-sale service.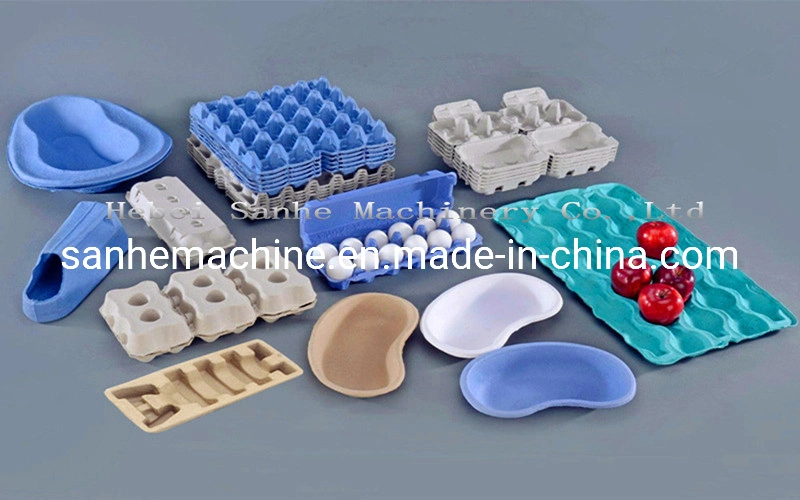 Egg tray process flow diagram

Egg Tray Machine (a kind of pulp molding machine) uses all kinds of waste paper as raw material and produce different kinds of tray products according to customers' requiement,such as egg tray/dishes ,egg carton/box,fruit tray,industrial package tray,agricultural seeding tray ,wine tray ,shoe support and small products packages ,etc. The different final products are decided by y-our market choice.
The machine is highly automatic, easily learned and convenient service.
The production process flow : Pulp making system→Forming system→Drying system→Packing system




•Drying System
We have 4 kinds of drying system:
1).Natural drying line: dried the egg trays by sunshine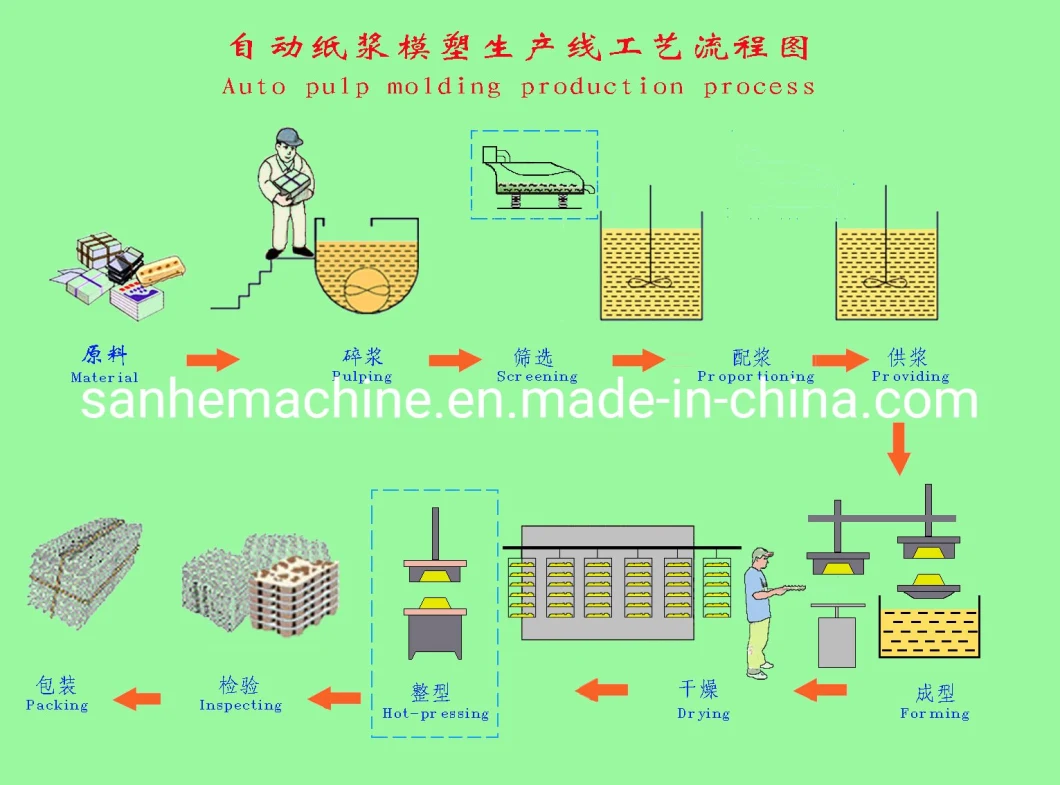 Our factory




Our Services
A: The Seller will send two engineers to the buyer's factory, they are responsible for the
instruction of installing machine and training the operator until the machine working
normally. All the expenses out of china (including the round-trip air tickets, foods and
hotel, salary 70usd/day/enginner) should be borne by the buyer. The buyer should
prepare onetranslator for our engineers to communication.
B: Forming machine warranty time: 12 month.
(not including the mould and quick-wear parts)
The seller will provide below quick-wear parts for free to buyer:
Proximity switch --10 units.
Solenoid valve -1 unit (10 leather packing)
Mold core -10 boxes
C: Within 3 months, if Vacuum pump, motors or Air compressor was broken because of
the quality of machine itself, the buyer should send the problem part back to seller , the
seller will provide the new one immediately. But as for the wrong operation of the
workers, the seller will not be responsible for them.
D: After guarantee period the Seller will send engineer on the Buyer's request. All the
expenses of this engineer will be borne by the Buyer's company, and service charge
will be negotiated by the Buyer and the Seller.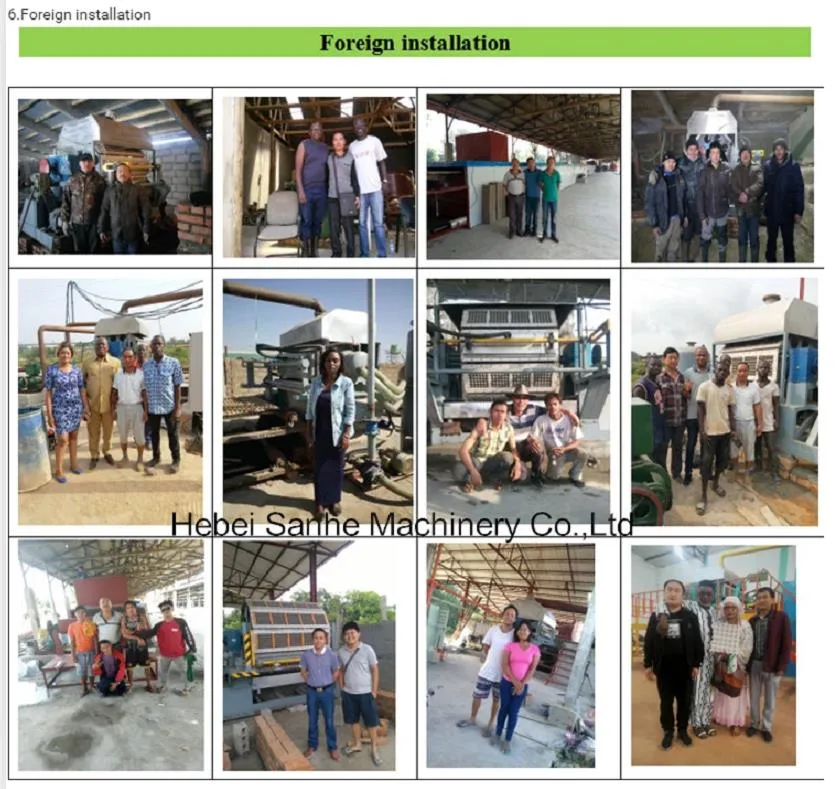 RAQ
1.What kinds of machines do you produce?
(1)pulp moulding machines,egg tray machines,egg packing machines,egg box/carton
machines,fruit tray machines,industrial machines, seeding tray machines .and the
whole production line etc.
(2)all kinds of moulds ,such as egg tray moulds,egg box/carton moulds, fruit tray
moulds,seeding tray moulds,industrial moulds etc.
(3)drying line
2.What capacity per hour do you offer ?
Our machines' capacity is from 1000pcs/hr to 10000pcs/hr.
3.Do your products come with a warranty ?
Yes , we have one year warranty according the international practice.
4.Can I customize this kind of product from your factory?
Yes ,we offer custom-made service to our customers, you need to provide us some
samples,such as photos,dimensions etc.
5.Can you give me a low price?
Yes,we are the manufacturer, at the same moment we guarantee the quality, we will
give you a lower price.
6.How to install?
The seller dispatches engineers to buyer's factory. Buyer should help installation.
Seller is responsible for installation, testing and training for 30 days, the buyer should
insure the safety of the engineers.

Contact me