Chirstmas Gift Automatic Mini Quail Egg Incubator for 7 Eggs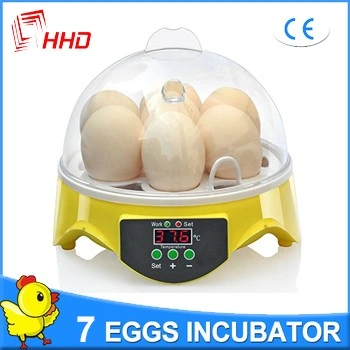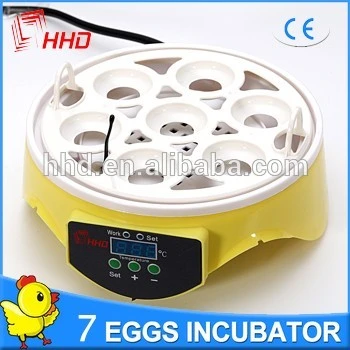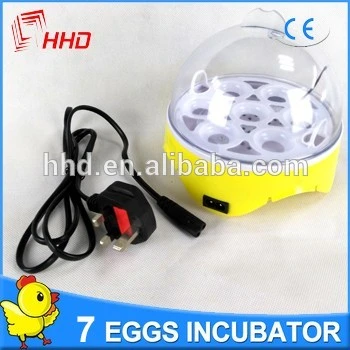 Egg Incubator Introduction
This mini egg incubator is stable and reliable, time-saving, labor-saving, and
Easy-to-use. Mini egg incubator is the ideal incubation equipment for propagation of poultry and rare birds and small and medium-sized hatchery.
Mini Egg Incubator Details:
(1)Capacity: 7 chicken eggs 7 bird/parrot eggs 7duck eggs
(2)Voltage: 220V Weight: 0.528kgs
(3)Package size: 170*170*160MM
(4)Hatching rate: More than 98%
(5)Package details: Carton with foam inside
Quail Egg Incubator Advantage:
1. Full automatic egg-turning and temperature control
2. Full automatic humidity control
3. Full automatic alarming
4. Full automatic cooling and ventilator
5. Back emergency system
6. Microcomputer, completely automatic mini egg incubator
7. Mini egg incubator has 3 years warranty and 10-12 years life span.
8. Mini incubator has 98% hatching rate.
9.96 Egg Incubator can be used as hatcher, setter and chicken baby box.
10. Mini Incubator can hatch chicken/quail/duck eggs.
11. Mini Incubator has CE approved.
Import Quail Egg Incubator Process:
1. We will prepare the mini egg incubator for you after payment
2. We will send mini egg incubators to EMS company or shipping company.
3. We will give you tracking number or Bill of loading when your mini egg incubator is on the way
4. Finally your mini egg incubator will arrive at your address or shipping port.
Quail Egg Incubator Productivity And Shipping And Quanlity Guarantee:
1. Our daily capacity can be over 1000pcs, we have enough materials, workers and mini egg incubator in stock.
2. Quality is guaranteed, all mini egg incubators are full automatic with CE approved and can be exported to Europe and other countries. We promise to send a new mini egg incubator to you if there's a quality problem or non-human damage after you make payment for EMS fee.
If you want to learn more about our quail egg incubator, please feel free to contact us
By the way, we also can supply industrial incubator with capacity from 24 to 22528 eggs, so may I know which capacity incubator do you want? We'll recommend the best one for you, thanks.
Model

Chicken eggs
Duck eggs
Birds or quail eggs
Ostrich eggs
Goose
eggs
Weight
/kg
Power
/ W
Volume
/ CBM
Packing
size/ cm
YZ9-7
7
7
7
0.528
80
0.005
17*17*16
YZ8-48
48
24
48
5.7
100
0.086
55*54*35
YZ-96
96
48
96
8.6
100
0.1
73*62*86
YZTIE-4
176
126
442
64
43
500
0.44
73*62*96
YZTIE-5
264
189
663
6
96
46
500
0.48
73*62*106
YZTIE-6
352
252
884
128
52
800
0.53
73*62*116
YZTIE-7
440
315
1105
160
55
800
0.58
73*62*126
YZTIE-8
528
378
1326
12
192
59
800
0.77
98*74*106
YZTIE-9
880
630
2210
24
306
75
800
0.97
98*74*136
YZTIE-10
1056
756
2652
432
85
800
1.32
121*78*139
YZTIE-11
1232
882
3094
504
100
800
1.43
121*78*151
YZTIE-12
1408
1008
3536
36
576
105
800
1.57
121*78*166
YZTIE-13
1584
1134
3975
624
115
1200
1.76
139*91*139
YZTIE-14
1848
1323
4641
54
728
123
1200
1.91
139*91*151
YZTIE-15
2112
1512
5304
832
133
1200
2.1
139*91*166
YZTIE-16
2464
1764
5967
72
1008
143
1200
2.3
139*91*176
YZTIE-17
2640
1890
6630
1024
150
1200
2.4
139*91*186
YZTIE-18
2816
2016
7072
1040
165
1200
3.1
182*91*186
YZTIE-19
3168
2268
7956
96
1296
175
1200
3.3
182*91*196
YZTIE-20
3520
2520
8840
1440
185
1000
3.5
182*91*206
YZTIE-21
3872
2772
9724
1584
195
1600
3.6
182*91*216
YZTIE-22
4224
3024
10128
108
1728
205
1600
3.8
182*91*226
YZTIE-23
4576
3276
10608
1872
215
1600
4
182*91*236
YZTIE-24
5280
3780
11492
144
2160
220
1600
3.8
186*102*197
YZTIE-25
8448
6048
13260
3456
440
3600
6.9
204*179*188
YZTIE-26
9856
7056
24752
336
4032
460
3600
7.6
204*179*208
YZTIE-27
12672
9072
31824
5184
660
5200
10.2
304*179*188
YZTIE-28
14784
10584
37128
6048
680
5200
11.4
304*179*208
YZTIE-29
16896
12096
42432
504
6912
700
5200
12.4
304*179*228
YZTIE-30
19712
14112
47264
8064
900
6800
12.9
304*204*208
YZTIE-31
22528
16128
56576
672
9216
1000
6800
14.2
304*204*228