HHD Newest Arrived Best Selling Product Eggs Incubator Hatching Machine YZ8-48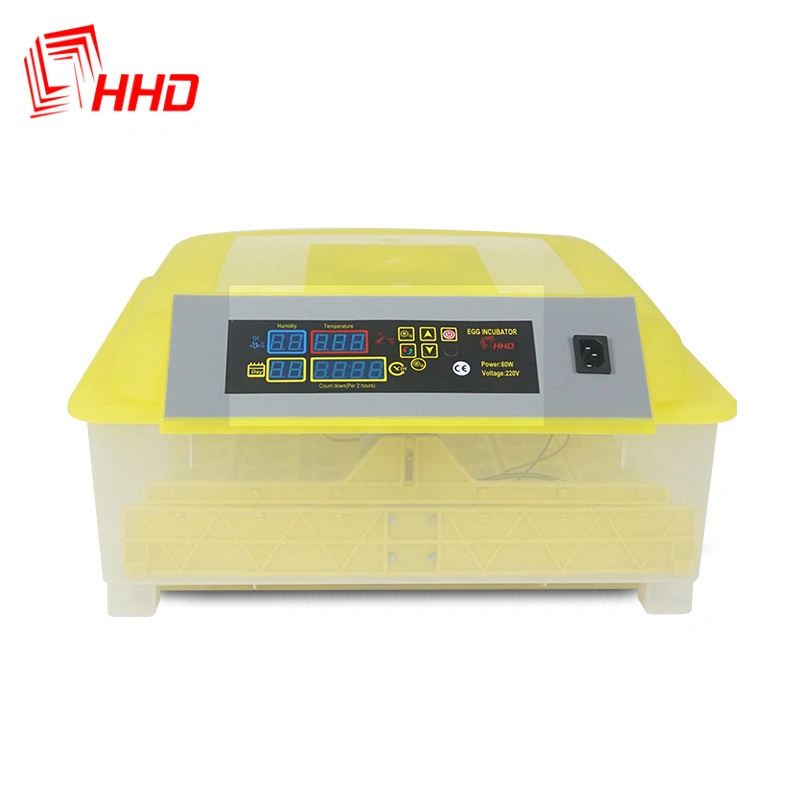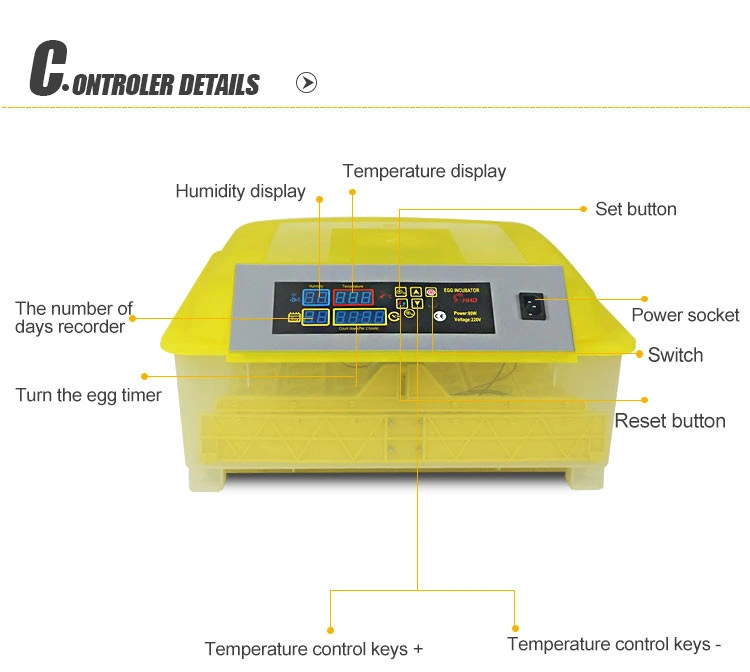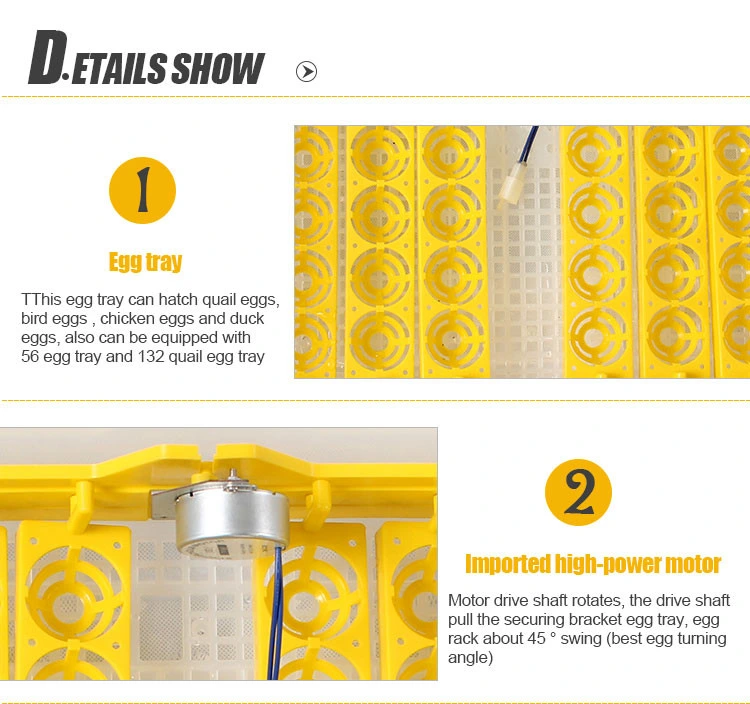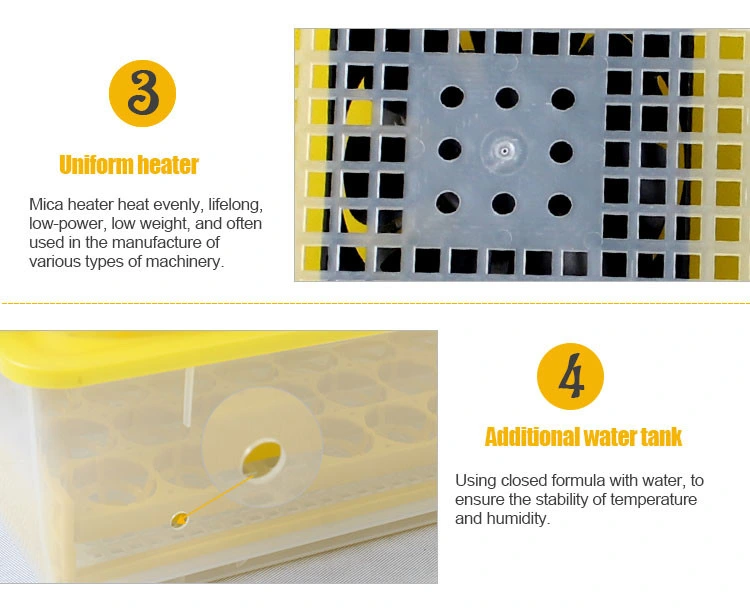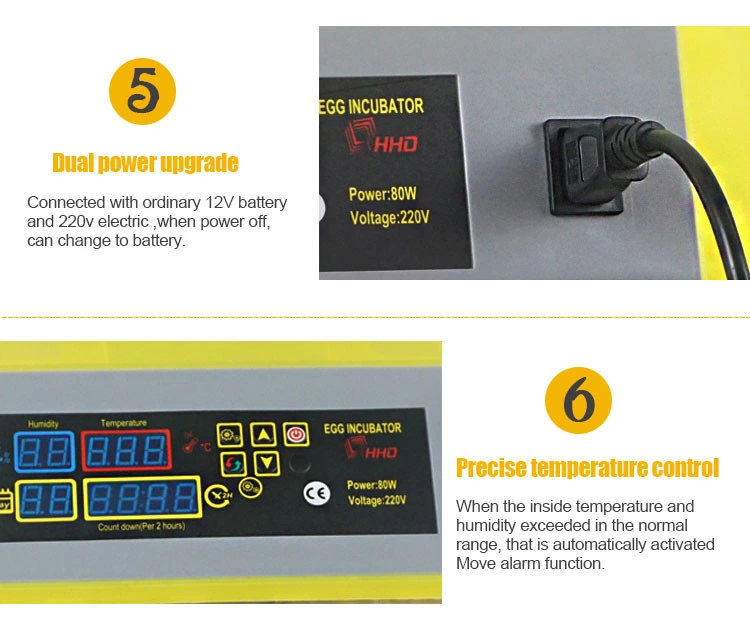 1.Detials of YZ8-48 Hatching Machine Egg Incubator
| | |
| --- | --- |
| Capacity: | 48 Chicken Eggs/132 Bird Eggs |
| Usage: | Chicken,Quail,Duck,Bird |
| Power: | 80 W |
| Voltage: | 12V,110V,220V-240V,12V&220V |
| Weight: | 5KG |
| Dimension(L*W*H): | 51*29*52CM |
| | |
| --- | --- |
| Lid: | Full Transparent |
| MOQ: | 1 set. |
| Package: | carton package with foam inside |
| Alarm: | Temperature&Humiditity Alarm |
| Certificate: | CE Passed |
| | |
| --- | --- |
| Egg Turner: | Automatic Per 2 Hours |
| Lid: | Full Transparent |
| Alarm: | Temperature&Humiditity Alarm |
| Certificate: | CE Passed |
2. Features of Hatching Machine Egg Incubator
1. automatic mini chicken egg incubator can let the mirco-computer controller
automatic controlled on temperture, humidity, egg-turning.
2. automatic mini chicken egg incubator electricity motor is egg-turning system .
It is responsible for control egg tray egg turning.
3. Humidity sensor will pass incubator inside actual humidity date to micro-computer controller.
4. automatic mini chicken egg incubator heating pipe are responsible for
heating temperature.
5.Transperant lid, which we can see the process easily without open lid.
6. Automatic alarm when you outside.
Pictures of poultry egg incubator
3.Operation Instruction:Hatching Machine Egg Incubator

1. Please add water when you start to use it .
2. Please preheat before the machine start to work, check whether it's 38ºC or not, if not,pls set it to be 38ºC according to Press-button Instruction.
3. Please check whether the two LED lights are on or not .
4. Please turn off the power after preheating. Fill the water pan with water, put it under the egg tray and put eggs into egg tray, then put on the lid of machine and turn on power.
Press-button Instruction:Hatching Machine Egg Incubator
A: "set" --- Temperature setting button. Press "set" once to do temperature settings, Press "+" or "-" to adjust temperature, push "set" again to save data and exit.
B. "+" --- Press it to increase temperature
C. "-" --- Press it to decrease temperatu
Instruction of indicating lamp condition:
"work" on the right side of display screen is working indication lamp . LED lighting means the machine is in working condition.
"set" on the left side of display screen is temperature setting indicating lamp, LED lighting means it's in temperature setting condition , when flashing, it means low temperature, the machine will start to increase temperature .
4.Pakaging and shipping:
1.Package with paper box with foam inside .
FAQ of Hatching Machine Egg Incubator >>>
Q: Hi, Is there an egg tuner with this egg hatching machine or do eggs have to turned by hand?
A: No,The chicken incubator is full automatic egg-turning and temperature humidity ventilation control.
Q :Can your egg hatching machine hatching rare reptile eggs ?
A : Of course.Our chicken incubator can incubation snake turtle parrot quail and etc
Q: When will you delivery the goods ?
A : We will ship the goods within 1-2 days after received your payment.
Q:What should we do if there have problems during using ?
A:my dear friend , We have 1 years guarantee. Any egg incubator problems you have,Welcome email or call me ! We will provide our best professional service for you.
Any questions for 7 to 21120 eggs incubator,please contact me,thanks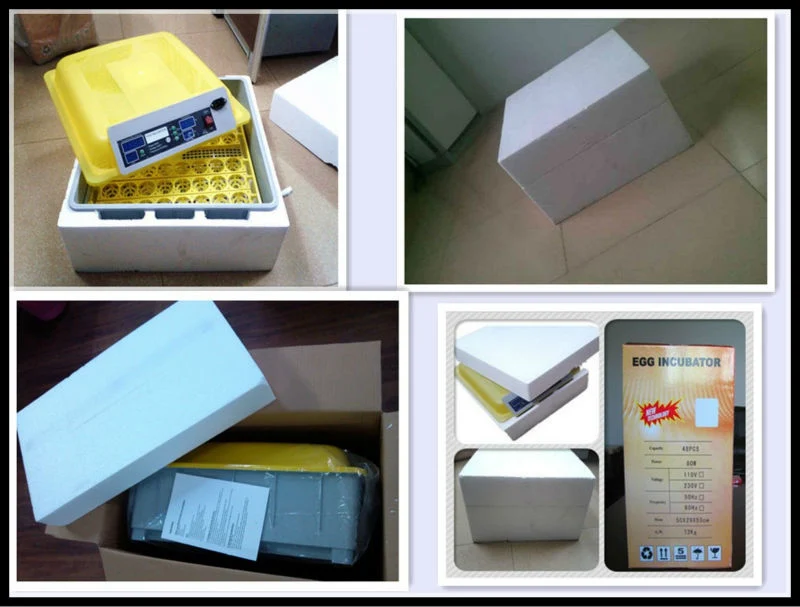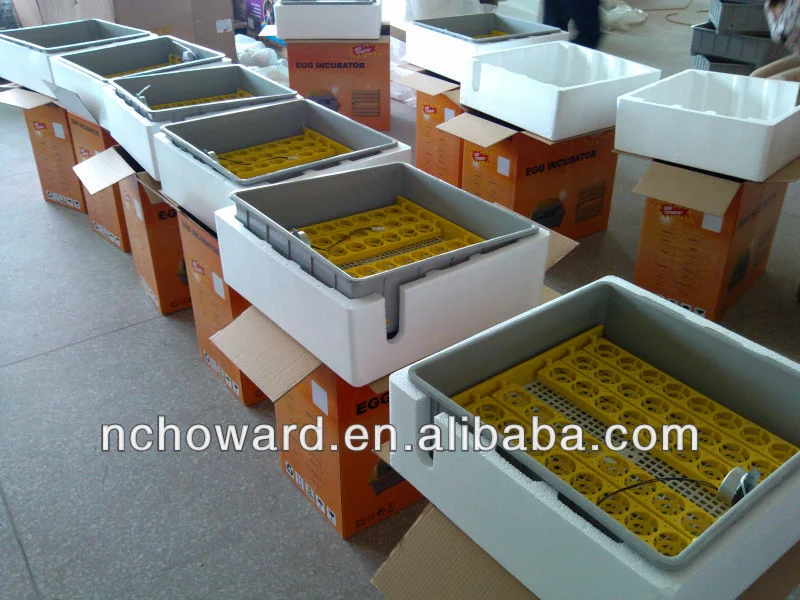 5. Nanchang Howard Electric Appliance Manufactory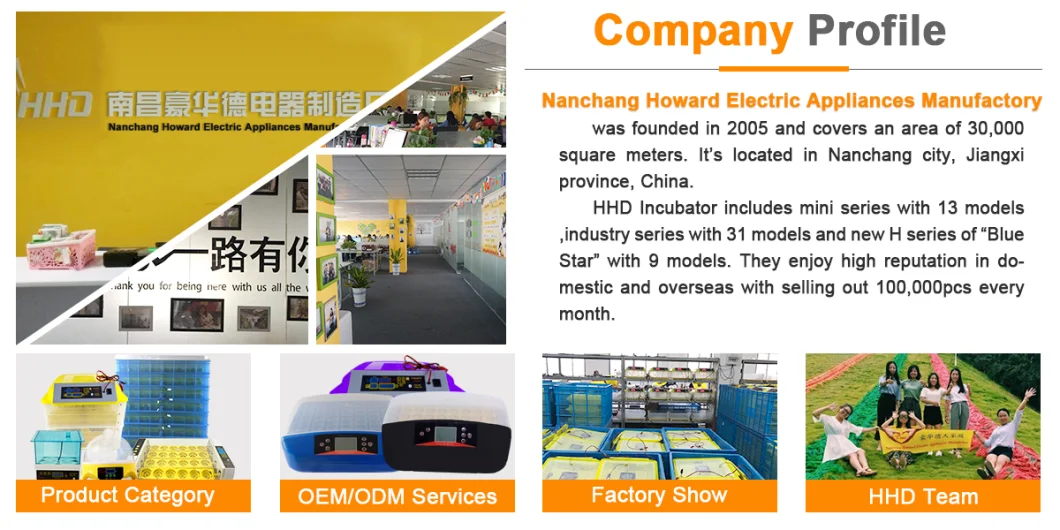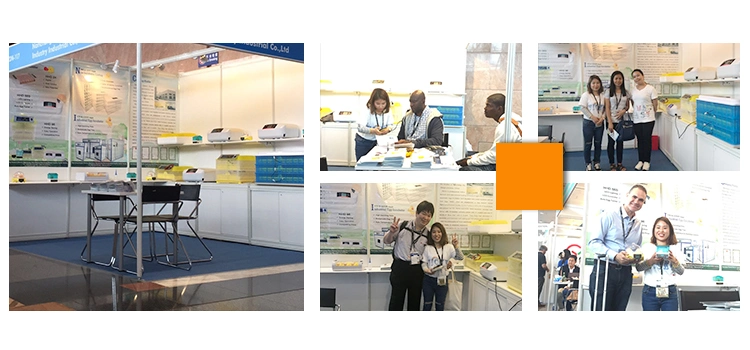 Certification: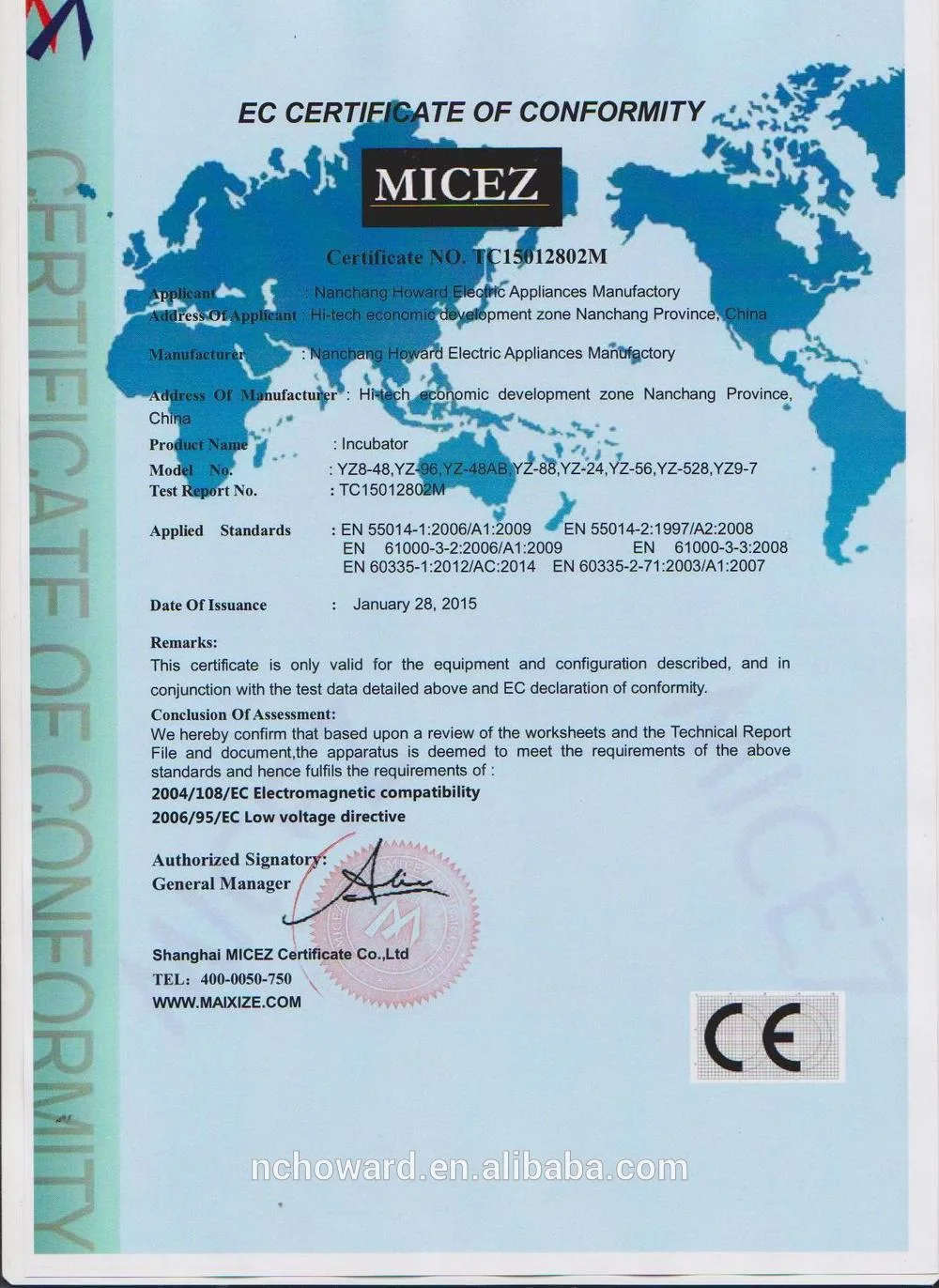 Kindly pls give us email if u are interested in it.
Web: Http://cnhoward.en.made-in-china.com
Adds:Changdong Road Qingshanhu district Nanchang City Jiangxi Province